Samsung finally announced the successors of its flagship S series named S10e,S10,S10 Plus and S10 5G. This year is special for Samsung because its the 10th anniversary of S series flagship and Samsung did what was to be done to make it special. This year, we have not two but four S10 and all are redesigned and with new features plus a 5G variant.
Before we get into the details,let's start with some impressions. These all are awesome and first edition of exciting smartphones this year. Although 2018 was a disappointing year for the company and its fans, because both S9 series and Note 9 were not redesigned at all and lack the marketing features and not worth the upgrade. This year, Samsung has realized its fault and following the trends. Samsung has introduced full view display leaving only small bezels above and below, the 10th generation has most notable triple cameras following the hype created by Huawei and under screen fingerprint scanner. Another important feature is the hole for selfie camera. Samsung hesitated for a long time to avoid the notch trend set by Apple. Now it has introduced punch hole display that houses the single front camera in Galaxy S10e and S10 and an oblong hole in S10 plus houses dual selfie cameras.
Now lets see their specs sheet and go into some details. I'll not go deep because its just hands on review. You will have to wait for complete review.
Samsung Galaxy S10e Specifications
Display: 5.8-inches, 1080×2280 pixels, Dynamic AMOLED, 19:9 aspect (~438 ppi)
Dimensions: 142.2 x 69.9 x 7.9 mm
Weight 150 g
Rear camera

16 MP (Ultra Wide/F2.2), FF
Dual Pixel 12 MP OIS (Wide/F1.5/F2.4), AF

Front camera

Dual Pixel 10 MP AF (F1.9)

RAM & Memory
Hybrid MicroSD slot (up to 512GB)
Battery: 3,100 mAh
Charging: Fast Wireless Charging 2.0, Wireless PowerShare
Sensors: Accelerometer, Barometer, Gyro Sensor, Compass, Magnet (Hall) Sensor, Proximity Sensor, RGB Light Sensor
Security: Capacitive Fingerprint Scanner, Face Recognition
Processor: Qualcomm Snapdragon 855 Octa-core, 7 nm process
Price: 6GB/128GB $749.99
Samsung Galaxy S10 Specifications
Display: 6.1-inches 1440×3040 pixels, Dynamic AMOLED, 19:9 aspect (550 ppi)
Dimensions: 149.9 x 70.4 x 7.8 mm
Weight 157 g
Rear camera

16 MP (Ultra Wide/F2.2), FF
12 MP OIS (Wide/F1.5/F2.4), AF
12 MP OIS (Tele/F2.4), AF

Front camera

Dual Pixel 10 MP AF (F1.9)

RAM & Memory
Hybrid MicroSD slot (up to 512GB)
Battery: 3,400 mAh
Charging: Fast Wireless Charging 2.0, Wireless PowerShare
Sensors: Accelerometer, Barometer, Gyro Sensor, Compass, Magnet (Hall) Sensor, Proximity Sensor, RGB Light Sensor, HR Sensor
Security: Embedded Ultrasonic Fingerprint Scanner, Face Recognition
Processor: Qualcomm Snapdragon 855 Octa-core, 7nm
Price:  8GB/128GB $899.99 (free Galaxy Buds with pre-order)
Samsung Galaxy S10+ Specifications
Display: 6.4-inches 1440×3040 pixels, Dynamic AMOLED, 19:9 aspect (526 ppi)
Dimensions: 157.6 x 74.1 x 7.8 mm
Weight 175 g, or 198 g for the ceramic models
Rear camera

16 MP (Ultra Wide/F2.2), FF
12 MP OIS (Wide/F1.5/F2.4), AF
12 MP OIS (Tele/F2.4), AF

Front camera

10 MP PDAF (F1.9)
8 MP AF (Depth/F2.2)

RAM & Memory

8GB + 128GB
8GB + 512GB (Ceramic version only)
12GB + 1TB (Ceramic version only)

HYBRID MicroSD slot (up to 512GB)
Battery: 4,100 mAh (Typical)
Charging: Fast Wireless Charging 2.0, Wireless PowerShare
Sensors: Accelerometer, Barometer, Gyro Sensor, Compass, Magnet (Hall) Sensor, Proximity Sensor, RGB Light Sensor, HR Sensor
Security: Embedded Ultrasonic Fingerprint Scanner, Face Recognition
Processor: Qualcomm Snapdragon 855 Octa-core, 7 nm process
Price: 8GB/128GB $999.99 (free Galaxy Buds with pre-order)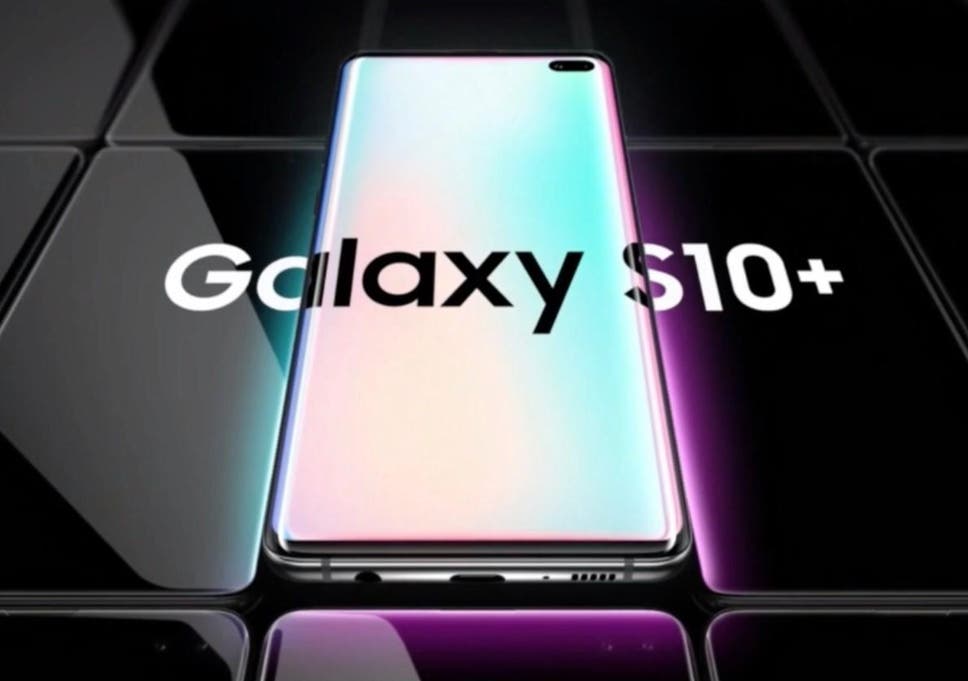 Samsung Galaxy S10 5G Specifications
Display: 6.7-inches 1440×3040 pixels, Dynamic AMOLED, 19:9 aspect (502 ppi)
Dimensions: 162.6 x 77.1 x 7.94mm
Weight 198 g
Rear camera

16 MP (Ultra Wide/F2.2), FF
Dual Pixel 12 MP OIS (Wide/F1.5/F2.4), AF
12 MP OIS (Tele/F2.4), AF
3D Depth: hQVGA

Front camera

Dual Pixel 10 MP AF (F1.9
3D Depth: hQVGA

Memory
No microSD slot
Battery: 4,500 mAh
Charging: Fast Wireless Charging 2.0, Wireless PowerShare
Sensors: Accelerometer, Barometer, Gyro Sensor, Compass, Magnet (Hall) Sensor, Proximity Sensor, RGB Light Sensor, HR Sensor
Security: Embedded Ultrasonic Fingerprint Scanner, Face Recognition
Processor: Qualcomm Snapdragon 855 Octa-core, 7 nm process
Network: Up to 7 CA, LTE Cat.20, Enhanced 4×4 MIMO, Up to 7CA, LAA, LTE Cat.20

2.0Gbps download, 150Mbps Upload + None Standalone (NSA), Sub6 / mmWave (28G, 39G)