Everyone needs privacy and security while surfing the internet. Virtual Private Networks (VPNs) are among the best security tools a web surfer can have. You can use them to surf seedy public WiFi with more security and privacy. They can even be used to get around firewalls if your work has, say, Facebook blocked. Many people use them to overcome regional restrictions with various types of content. Whatever the reason, VPNs are powerful and popular tools. Here are the 20 best free Android VPN apps!
READ ALSO:
1. Hotspot Shield VPN Proxy
Hotspot Shield has approximately 330 million downloads around the world, it is at the top of the list. Apart from traditional features found in any VPN app, it provides banking-level HTTPS encryption to secure the WiFi connection so that the outgoing data can be protected from eavesdroppers.
Hotspot Shield VPN is the most trusted security, privacy and access platform with top performance on speed, stability and security. Hotspot Shield gives you true online freedom – bypassing geo-restrictions and accessing world's content from anywhere, with just one tap.
2. SecureLine VPN
SecureLine VPN is a nice app developed by Avast. They are famous for developing one of the best antiviruses worldwide. The private VPN Tunnel of SecureLine VPN encrypts the data using IPsec protocol which makes it really tough for hackers to snip the data through public WiFi hotspots. The app will perform all this work for you with just a click.
You can download this app from button below:
RECOMMENDED:
3. Spotflux VPN
Spotflux is a VPN app which take cares of the security of data by providing 2 levels of protection and reduces the consumption of bandwidth by compressing data. This makes it a suitable choice for those who are interested in securing their data as well as maximizing the data plan available on their device.
Spotflux VPN can be downloaded from play store below:
4. Hola Free VPN
Hola Free VPN app is mainly for those who are looking for a completely free VPN android App with some striking features.
Along with securing data and providing access to geographically blocked content, Hola Free VPN speeds up browsing by selecting and connecting to the nearest and fastest servers automatically from the list of servers located in 190+ countries. This makes it stand out of crowd.
MUST READ:
5.CloudVPN app
CloudVPN is one of the most downloaded free VPN apps for Android. This application works without registration. It is a powerful app that doesn't offer virtual private network service for a limited time. It is always free of cost.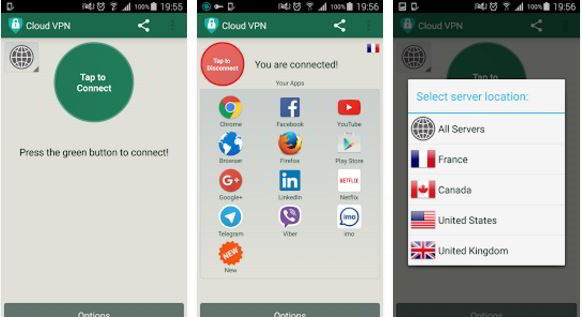 CloudVPN works with all types of internet filters, firewalls, and mobile internet services. It doesn't prompt you to configure settings.The app is easy to use. To use access blocked sites, install the app and tap on activate button to start browsing anonymously. Cloud VPN doesn't work with sites that let you download copyrighted materials. So this will not work with torrents. If you still want to try this you can download below:
6. SurfEasy free VPN
The SurfEasy app requires users to register an account before they start using surfeasy VPN service. The app prompts you to enter Name, email address and password.
Once you enter the details, tap on create account button. The app will now load your plan details and it will display a popup to enable/disable VPN service. The main interface of SurfEasy app is beautiful. The app shows a map of the region where VPN server has been setup.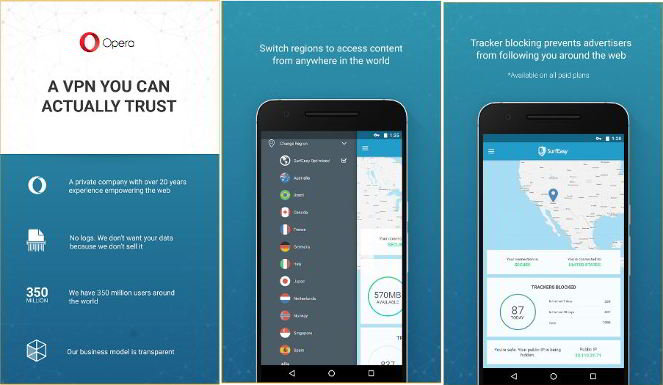 SurfEasy offers a one-click option to block trackers. The app lets you add a home screen widget to disable or enable VPN on one-click. It imposes 500 megabytes data transfer limit on each account. It lets you earn data. To earn free data, confirm your email address, install the app on another device, or like SurfEasy fan page. So you can say it is not free forever.
MUST READ:
7. Speed VPN
Speed VPN is an app which allows one to connect to the Internet through servers located at multiple geographical locations. It is designed particularly for web browsing by unblocking geographically restricted sites and for viewing low resolution videos. Each session of Speed VPN lasts for 60 minutes and it can be reconnected with a click.
Download this from play store below:
8. Super VPN
Super VPN is an easy to use app with approximately 5 million installs around the world. It encrypts the traffic to keep the transmitted and received data safe from 3rd party tracking without having to register the settings of the device in a special way. Just a single click will enable you to use the Internet and browse websites anonymously.
MUST READ:
9. Hideman VPN
The main feature of Hideman VPN is to secure the transmitted data as much as possible and for this purpose the algorithm uses a 256-bit encryption key. This scrambles the original data in such a way that if anyone is monitoring the data they wouldn't be able to understand it without the key. The app offers 5 free hours per week although premium hours can be earned via in-app ad networks. Although it is free but has some limits but still it is well known VPN app thats why we included it here.
10. Touch VPN
Touch VPN encrypts data by using Secure Socket Layer (SSL) which maintains a secure and encrypted link between server and client. The app also helps conserve the battery of the device in comparison to other VPN Apps. This makes it great for those who are looking for an app which offers these 2 features.
MUST READ:
11. Flash VPN Proxy
The Flash VPN Proxy app provides secure and encrypted VPN network to make sure that all your incoming and outgoing data remains intact from hackers and data stealers. The best thing about it is that you can use it smoothly because it offers a decent amount of bandwidth for communication, which is only often offered by premium apps. On top of that, there is no limit to how long you can connect for.
12. Droid VPN
Droid VPN might not be the best VPN app but would serve as a backup if you had something to deal with privacy. The 100 MB per day data cap is decent for average users. Moreover, you won't get too many servers to pick in the free version, you are restricted to access two servers, which would be busy for most of the times.
The premium plan makes your way clear for unlimited bandwidth and a wide array of elite servers to choose from.
In this app you can configure your connection through TCP headers, UDP or ICMP. It's one of the Android VPN services that is compatible with the ICMP connection. The only con we found so far was the server busy issue, it does not happen often but remains unsolved as there are only servers.
 RECOMMENDED: 

HOW TO INSTALL INCOMPATIBLE APPS OR REGION-RESTRICTED APPS ON ANDROID
13. CyberGhost
CyberGhost is a nice app which provides banking-level security. CyberGhost respects the privacy of its users and does not access any personal information. The free version of the app provides access to 23 servers located in 15 countries while the premium version gives access to 300 servers in 23 countries.

14. Tigervpns Android VPN
Tiigervpns Android VPN is an app to protect one's privacy and hide the source IP address. It offers up to 500 MB of free trail traffic upon signing up. This may be not enough for many users but still it is a good alternative.
SEE ALSO:
15.OpenVPN Connect
OpenVPN Connect is one of the precious few truly free VPNs available on Android. It's also open source which is always a plus with security apps. Most of the apps so far have been the "fire and forget" variety but OpenVPN Connect requires a little more knowledge and, thus, has quite the learning curve. You can do things like import .ovpn profiles and engage in a number of advanced settings. This VPN also uses Polar SSL which was, most notably, not affected by the Heartbleed issue from months back. If you don't mind getting your hands dirty and actually learning the ins and outs of VPNs, this is a fantastic option. Do note that you'll need to create and set up an OpenVPN server yourself in order to use this application.
RECOMMENDED:
16. Mobiproxy
Another useful VPN app to access the region-based restricted websites without being traced is mobiproxy. It provides extra security for outgoing and incoming data.
17. Psiphon
Psiphon provides a simple way to access everything available on the Internet easily with secure VPN tunnel. A user can also explicitly define whether to tunnel everything or just the web browser.
18. ZenMate VPN
Zenmate VPN is easy to use and works everywhere – at home, on the go or in public WiFi – acting as your internet security companion. You can unblock the web and secure your mobile with encryption. Change your location and access sites in the web that are not available in certain areas.
It hide your IP address and get more protection one touch! It keeps your privacy safe and protect all your internet activities – including your apps.

19. Zero VPN
Zero VPN is another app which allows you to use VPN services at zero cost with no difficulty. The interface is easy to use which facilitates in surfing the Internet anonymously.
20. VPN Master
VPN Master is one of the  VPN apps for anonymous Internet usage that doesn't require registration. It also allows you to choose any server in America, Europe or Asia with 99.9% uptime.
DON'T MISS: 
Final Words
We have sorted out all the free VPN apps for android. You can try any of these which you find suitable. If you are still not satisfied by all of these free apps, then you can try paid VPN apps for android which offers too many features.
If you liked this article share this on social media. To keep reading our interesting articles follow us on social media or subscribe through RSS or newsletter.
    
Please use well reputed browsers like chrome, firefox for smartphones and don't use cheap mobile browsers like UC browser because they will not work for our site.TO DOWNLOAD ANY APP CLICK THE DOWNLOAD BUTTON AND SKIP THE AD ON NEXT PAGE BY PRESSING SKIP THIS AD BUTTON ON TOP RIGHT CORNER. IF YOU HAVE ANY ISSUE COMMENT BELOW.