Multiple Accounts:Parallel App
"Multiple Accounts" is for users who want to keep Two Accounts of One App both online at the same time with only One Phone, while messages and data of your different accounts are in seperated space.
One app, Two Accounts, Messaging and Social Network:
Support most Instant Messaging&Social Network APPs. Your multiple accounts work simultaneously on one device, connect different friend circles(work or personal) and share different information.
Double Game Account Experience :
Log in two game accounts for Google Play and different experiences for both accounts at the same time! 99% of top games supported!
 Privacy and SecurityFEATURES:
– Simple and clean UI, simple operation.
– Different Acounts,Same Features, Separate Space, No Conflict !
– Small and Low CPU Consume.
Parallel Space-Multi Accounts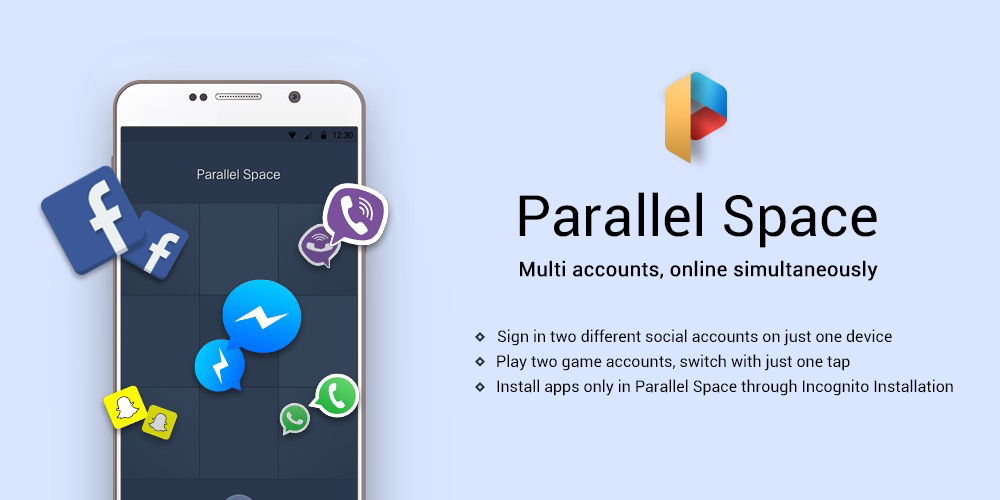 Clone and run multiple accounts of the same app simultaneously, and use themes to style your unique space.It also protects user privacy by making apps invisible on device with the Incognito Installation feature. Moreover, users are able to customize themes of their cloned apps and the themes of Parallel Space to style their own space. Parallel Space supports 24 languages, and be compatible with most Android apps.
Log in to multiple accounts of social networking apps or game apps at the same time on one device
• Balance between users' life and work easily.
• Double users' online gaming experience and have more fun.
• Almost all apps are supported for a second account in Parallel Space. Data from both accounts won't interfere with each other.
Protect user privacy, make apps invisible on device through Incognito Installation
• Hide users' secret apps without worrying about prying eyes by keeping apps only in secret space.
• Protect user privacy with a security lock.
Create a customized space by applying themes
• A theme store is integrated into Parallel Space and a list of customized themes are ready for users to apply to style your own space.
• To style a unique space by a customized theme. The user can switch fast the different themes by one-tap with their moods.
Switch fast between accounts with just one-tap
• Run two accounts simultaneously and switch between them fast with one-tap to effective manage different accounts.Highlights:
• Powerful, stable & easy-to-use.
• Unique: Parallel Space is based on multiDroid, the first application virtualization engine on Android.
SwitchMe (Root)
SwitchMe is an app that can help you make duplicate profiles on Android, which works the same as switching users on the computer. This tool is available to all Android phones. However, it is required that the device should be rooted for you to have multiple Whatsapp on Android. Also note that it needs the latest version of the Super User. Aside from Whatsapp, it applies for using two Twitter on one phone, and many other apps, too. Here is how you can make use of this application.
Download and install the app on your rooted device.
Launch SwitchMe and then grant the Super User that it will ask.
Create a user profile on the app and that profile will serve as the administrator. In there you may find the settings, current apps and the Whatsapp profile installed on your device.
Next, create your second profile by hitting the "Create Profile" button. Choose the "Switch" option to use the new account. Your phone will then restart and use the new account.
Go to Google Play Store and download a new Whatsapp app again and register your other number. You may go through the same process on different accounts.
Remember that in some cases, you'll find the app crashing. If that happens, uninstall and reinstall the app from the Google Play Store.