Writing on your smartphone, especially if it is a long article, is not the most convenient, but it can be turned into a pleasurable one with the right software.You don't necessarily need word processors for writing on your smartphone, as they all have plenty of distracting options that you will almost certainly never need.
Instead, for those who want to concentrate on just writing, using a minimalist writing app would make things a lot more pleasant.We have scoured the Google Play Store and shortlisted eleven of the best apps for writing on your Android smartphone or tablet.
1. iA Writer
Price: Free
iA Writer is a long-time favourite on iOS and OS X devices, and it finally made its debut in the Android ecosystem in 2015. It has quickly become a favorite among Android users as well.
The app offers several features that give it the edge over all other apps in this list. It comes with full markdown support and a preview mode that you can access by swiping across the screen. Aside from creating local files, you can access documents on Google Drive and Dropbox, and it offers real-time synchronization for both services.
In addition you can export your writing to several formats such as HTML, PDF and MS Word (.docx). Another killer feature is its ability to publish directly to medium.com. You'll need an integration token to enable this feature, but the directions to get one are clearly stated in the app.
2.Evernote
The Evernote is one of the top downloaded Android App from Play Store which is an ideal app for students, business/corporate persona and off-course for writers. This app will help you to save anything you want like notes, texts, files, images, videos etc. The app will help writers to write down any notes and save it for further revision or edit. You can also create and save a to-do-list about your writing tasks and set voice reminders so that you can't miss anything.
Stay focused on your job
Team work features by sharing your notes or documents
Offline access ensure works from anywhere without internet connection
Unlimited upload feature helps to keep your files safe
Integrated search option
Create privacy for files and documents
Rating on Google Play: 4.6 out of 5
3.Monospace Writer BETA
Price: Free / $4.00
Monospace Writer is a minimalist app that allows you to focus on your writing without any distractions. The app doesn't offer as many features as iA Writer, but it does have its own strengths.
On installation you will be greeted by a clean and well-designed interface that you should feel right at home with. There are a few tutorials that will show you how to use the app and the options available.
You can organise related articles using hashtags, and exporting to Markdown or plain text is available. Monospace also features Dropbox and Google Drive integration, only available in the pro version.
4.Dictionary.com
A dictionary app can help you easily to find meaning of any words, find synonyms, antonyms and stay with latest ling. The Dictionary.com app a leading dictionary app which you can use for free. The app comes with more than 2,000,000 definitions and synonyms and you can work offline. Just download and install the app and enjoy the free dictionary for a lifetime.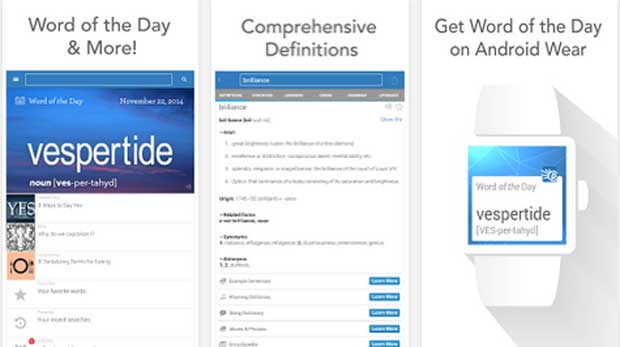 Notable Features
Get new words everyday
Built-in voice search feature
Audio pronunciation option
Built-in translator for more than 30 different languages
Rating on Google Play: 4.6 out of 5
5.JotterPad
Price: Free / $3.99
JotterPad presents itself as a minimalist app for any kind of writing. It has a decent looking material ui that cuts out all unnecessary options, allowing you to focus only on your task.
You can write your posts in markdown and export them to several formats (TXT, MD, PDF, DOCX (beta)). JotterPad also supports Dropbox integration as well as decent typography options and a night mode feature.One of the more interesting features about JotterPad is that it saves snapshots of your work which means you can easily revert to earlier versions if you wish to. You also get support for Bluetooth keyboards and shortcuts (such as CTRL+Z) with this app.
6.Story Plot Generator
Story Plot Generator is an excellent writing prompt tool designed for students and writers so that they could spark their imagination. It provides four key aspects of your story objective, description, location and situation. With the combination of these four aspects you can have plenty of ideas in various genres.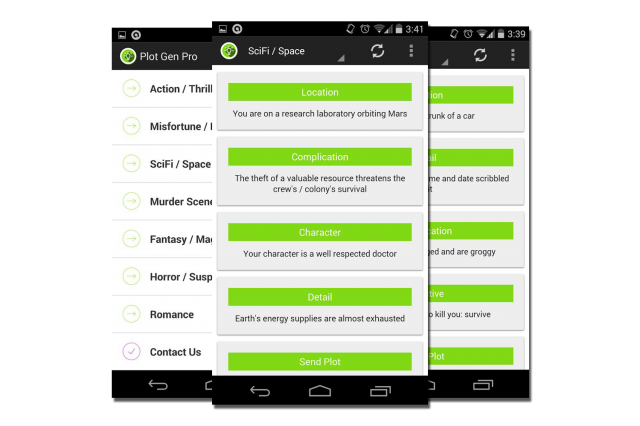 Writing prompts provides a basic premise from where you should take a start and Story plot Generator takes things a step further. The app lets you choose the situation, genre and other details to plot structure to craft new story every time.
7.Writer Plus
Price: Free
Writer Plus is another fantastic writing app that has an excellent rating on the Play Store. It is a completely free app that boasts several features you may be interested in.
The user interface is really nice with all your articles listed vertically on the screen. You can also organize your work into folders. Creating a new document is really easy; just click the floating "+" button at the bottom of your screen to get started.
Writer Plus supports markdown formatting as well as keyboard shortcuts if you are using a Bluetooth keyboard. Other features include word and character count, undo and redo, and night mode. The only disadvantage is that you are restricted to working with local files, but cloud integration has been marked for future updates.
8.Dropbox
The Dropbox could be one of the most important Android App for Writers, which helps to synchronize your notes, files, documents, images and videos from your PC, Android phone or tablet. Just create an account in Dropbox and install the software on your PC, install an app on your Android tablet or phone and download or upload your files/documents from anywhere, anytime. You can also open word, excel or pptx documents using the live view option. By default, you will get 2GB free storage and if you need more, then you must subscribe to any premium plan or refer your friends and family to get more free storage.
Notable Feature
Send large files without email attachment
View or edit Microsoft office files
Take backup your files automatically
Rating on Google Play: 4.4 out of 5
9.MarkdownX
Price: Free
As the name implies, MarkdownX is an app specially designed for those who prefer to write in markdown.
For those on smartphones, you'll need to swipe across the screen when writing an article to access the preview mode, but if you have a large tablet you can have a side-by-side live preview similar to most desktop markdown editors.
MarkdownX makes it easy for you to format your writing with several options at the top of the screen. It also supports exporting to HTML or plain text as well as synchronising with Dropbox. There is also a syntax reference available within the app for those who may need a refresher in the markdown syntax from time to time.
10.ColorNote Notepad Notes
The ColorNote Notepad Notes is a simple and lightweight Android App for Writers to make your writing tasks easier. With this app, you can easily write any notes on the way and open your unfinished works for simple edit and revise to make it better. To find your notes easily or make group notes, you can use various colors.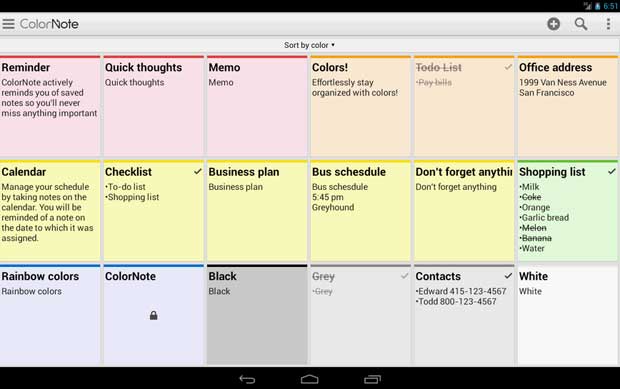 Notable Features
Home screen widgets available
Make a to-do-list to finish your tasks
Make and organize schedules
Lock your notes with passwords
Rating on Google Play: 4.5 Out of 5
Bonus: Writer Plus
Writer Plus is another fantastic app for creative writers to note down quick points. This is one of the enhanced writing apps without any fuss and distraction which makes it perfect for writing novels, drafts, poems, essay, lyrics on your Android smartphone or tablet.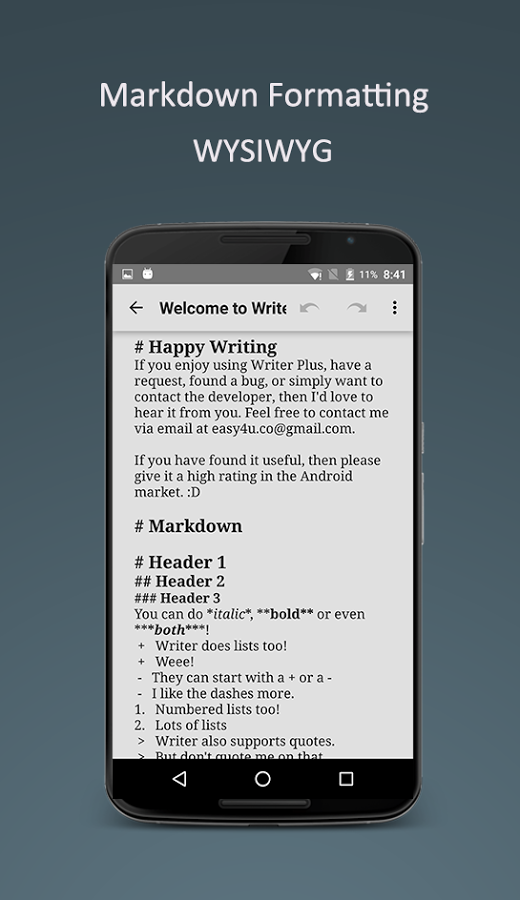 Writer Plus has many useful features to make your writing experience better. It includes night mode, keyboard support, share option, markdown support and highly stable and robust app which takes care of your high performance.
Final Words
Whichever app you choose you are guaranteed to experience a pleasurable writing experience on your Android device, so go ahead and try them all out to see which you like best.
If you have any other app you'd like us to add to this list, make your suggestions in the comments below. And subscribe and follow us through social media.