How to Unlock Bootloader of Huawei Phones Easily
Huawei phones always come with locked bootloader so you have to unlock first so you can customize and root the phone. Huawei devices can't be rootable until you unlock the Bootloader as for now as android versions 6.0 above are not rootable by one tap rooting apps. Unlocking Bootloader also void warranty.
This post is about Unlocking the bootloader of Huawei phones. I'll mention two methods here, one is by adb and other by SRK tool for Huawei.
Unlock Bootloader By ADB and Fastboot
Preparation
Open Huawei Bootloader Unlock request page on your PC and register/login to your account.
Carefully read and accept the unlocking agreement (if you agree) by checking the "I have read and accept all terms above" checkbox and click the Next button.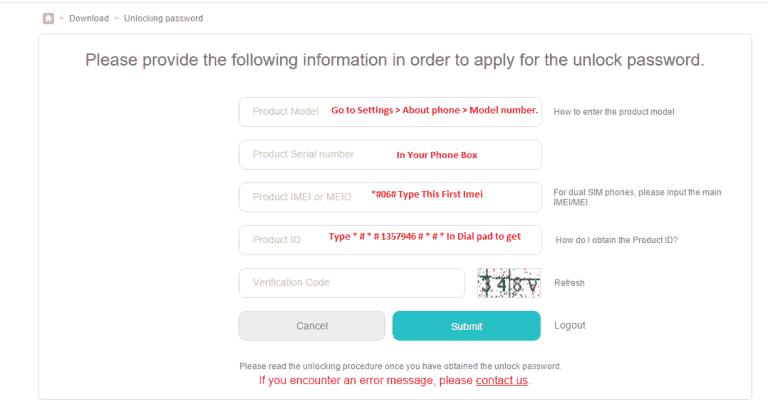 You'll be asked information about your Huawei device, provide the required information and hit Submit button.
If you filled in the details correctly, you'll get the unique 16-digit bootloader unlock password for your device. Note it down somewhere you can remember.
Enable USB debugging on your Huawei Android device:

Go to Settings » About tablet » and tap Build number 7 times to enable Developer options.
Go back to Settings » select Developer options » enable USB debugging.

Once you've USB debugging enabled, connect your Huawei device to the PC with a USB cable.
If a prompt appears on your device, asking for your permission to allow USB debugging, select "Ok".
Boot your Huawei device into bootloader mode using the following command:

 adb reboot bootloader

If this doesn't boot your device into bootloader mode. Then disable Fastboot function from your device's Settings.

Once your phone is in bootloader mode, issue the following command to unlock bootloader:

fastboot oem unlock 

your-unlock-password

Replace text in red with your 16-digit unique unlock password that you obtained in Step 5 above.

Wait for the bootloader unlocking process to complete. Once finished, your device will reboot to system and will be restored to factory settings.
Unlock Bootloader By SRK Tool For Huawei
Download and install SRK tool from button below.
Connect phone to PC with HiSuite open. You can get HiSuite here.
Run SRK tool as administrator.
On device go to about phone (in settings).
Tap on build number 7 times.
Go to developer settings.
Enable USB debugging.
On SRK tool select bootloader unlock.
Follow instructions.
Give the 14 digit unlock code you get from Huawei Unlock page.
When given the "Unlock bootloader" menu on device press [Volume up] then [power]
Your device will now factory reset
We will not be responsible for any damages you cause to your device.If you have any issues e.g. you get stuck at boot you can always reflash EMUI by first shutting off the device and then holding down [power], [volume up] and [volume down].