Photos and videos are an important part of life and enable you to relive your precious moments. In the modern era, mostly we only have a soft copy of our photos and a single copy of memorable occasions. But you regret it when you found that only soft copy is damaged or corrupted. But you don't know that most of the time you can repair your corrupt/damaged and pixelated and blurry photos and videos using the software. In this article, I am going to show you How to repair corrupt broken photos and videos using UltraRepair by iMyfone.
Why do videos or photos get corrupted?
Photos and videos can get corrupted or broken due to many reasons mentioned below and sometimes without reason.
Hard disk damage
System Crash
Viruses
Malware
Power outage
iMyFone is a devoted company to providing solutions for iOS & Android devices, Windows PC and Mac. Their products help people solve problems such as recovering lost data, unlocking iPhone or Android phones, and fixing various system issues. Moreover, they also cover data transfer, data backup & restore, data cleaner, etc.
What is iMyFone UltraRepair?
UltraRepair is the latest addition to the useful software lineup by iMyFone. UltraRepair is one of the best solutions to repair corrupt and broken files including photos, images, videos, and documents. iMyFone has its name in making the best solutions and you will get what you have paid for.
This is not a review article so I'll not talk about the UltraRepair features and pros and cons here.
Pricing
iMyFone is offering UltraRepair licenses in different plans including monthly, yearly, and lifetime plans. They are also offering Photo only or video-only options but file repair is not yet available. Prices are the same for Mac and Windows.
1-month plan
1-year plan
lifetime plan
Supported Formats for Repair
JPEG
CR3
CR2
NEF
NRW
RAF
DNG
ARW
GPR
TIF
TIFF
CRW
MOV
MP4
M2TS
MKV
MTS
3GP
AVI
FLV
MXF
INSV
M4V
PDF
DOCX
PPTX
XLSX
System Requirements
Windows: Windows 11/10/8/Vista/7
Mac: macOS 10.10~macOS 10.15
Hard Disk Space: Minimum 700MB of space
Step by Step Guide for using UltraRepair
Here is a tutorial on how to use iMyFone UltraRepair to repair your corrupted, blurry, pixelated, unsupported videos, photos, and files. Read on to see how it works.
How to Repair Broken Photos/Pictures Using UltraRepair
Step 1: Choose "Photo Repair" from the left panel. Click on the picture icon or "Add photo" button to upload pictures that need to be repaired.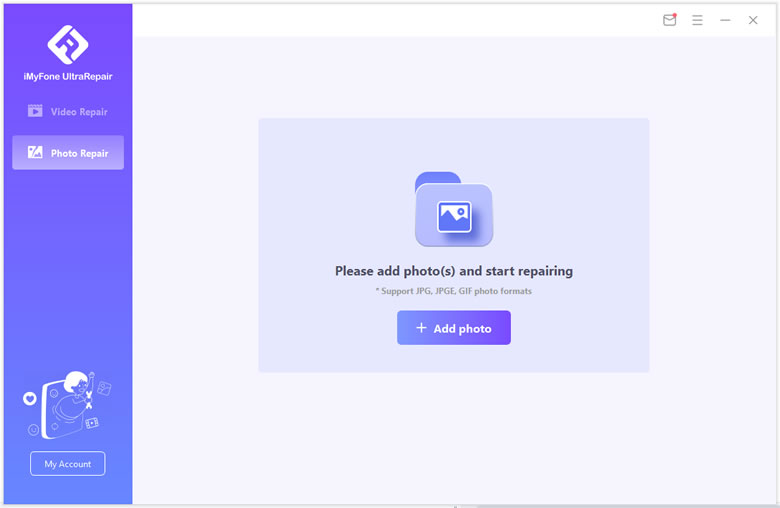 Step 2: Click on "Repair" and wait till the process is done. It will inform you of the result after the whole process.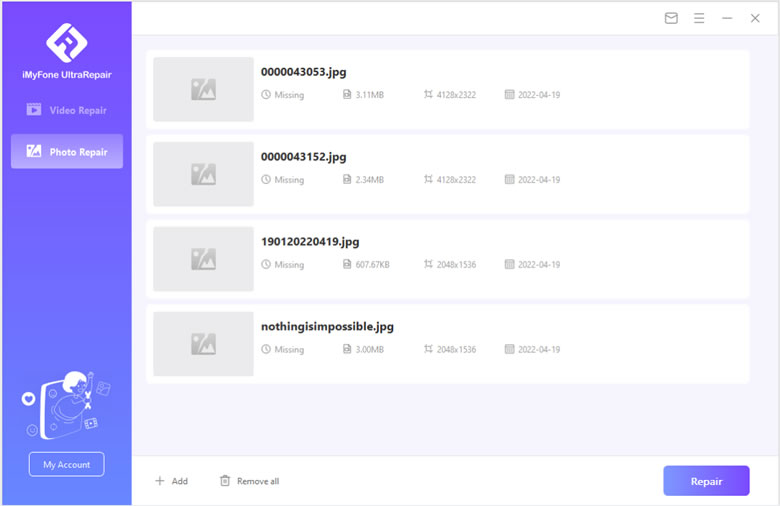 Step 3: Save the repaired photos to the place you want.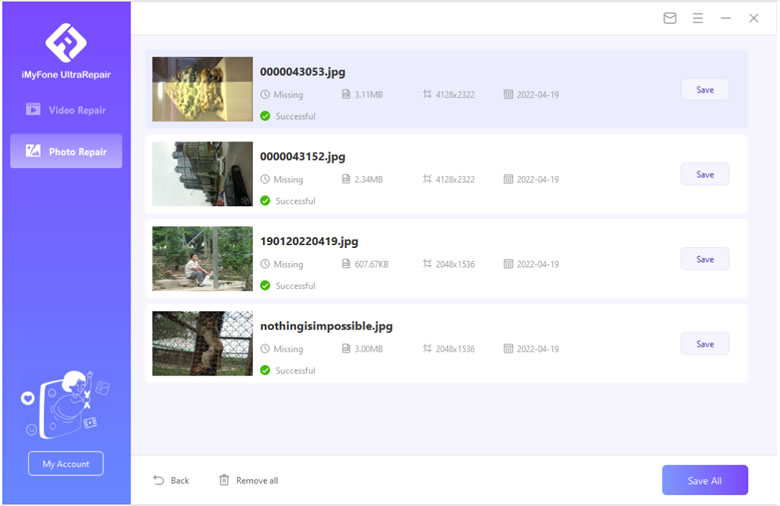 How to Repair Broken/Corrupted Videos Using UltraRepair
Step 1: Firstly, upload the broken video to UltraRepair. Click on the video icon saying "Please add video(s) and start repairing" or the "Add video" button.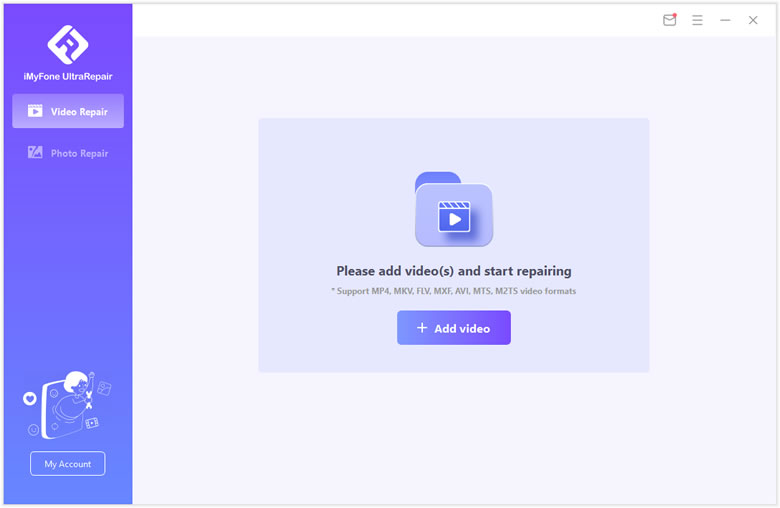 Step 2: Once the uploading process is finished, you will get the file name, size, length, and resolution of the damaged videos on the user interface.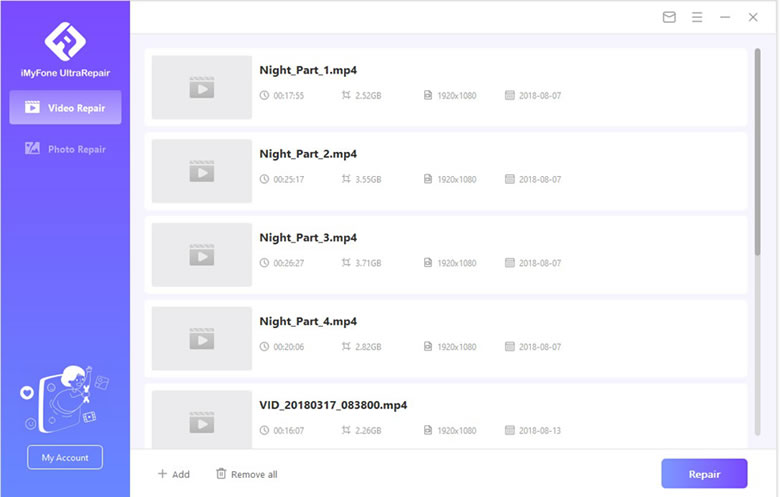 Step 3: Click on "Repair" to start the process. When the repair process is done, a pop-up window will show that your videos have been repaired successfully, and it's optional to save the videos to your computer.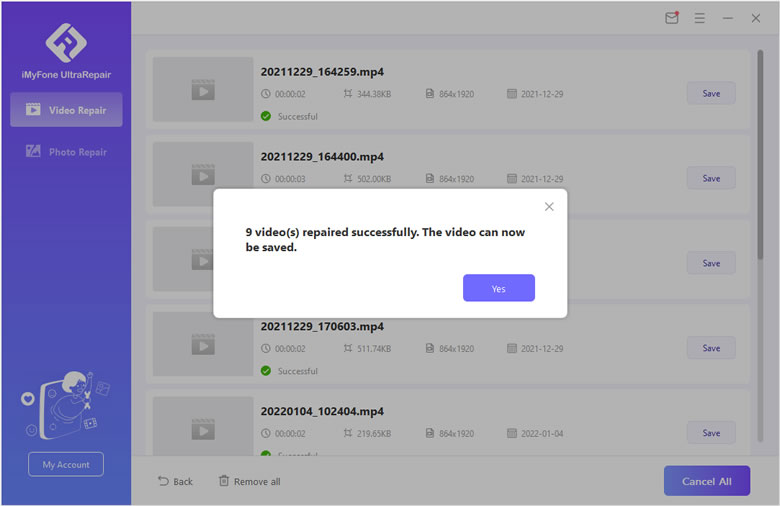 Step 4: Now you can save specific videos or all the repaired videos by clicking on "Save" or "Save All". Also, remember to choose the storage path before finally saving the videos.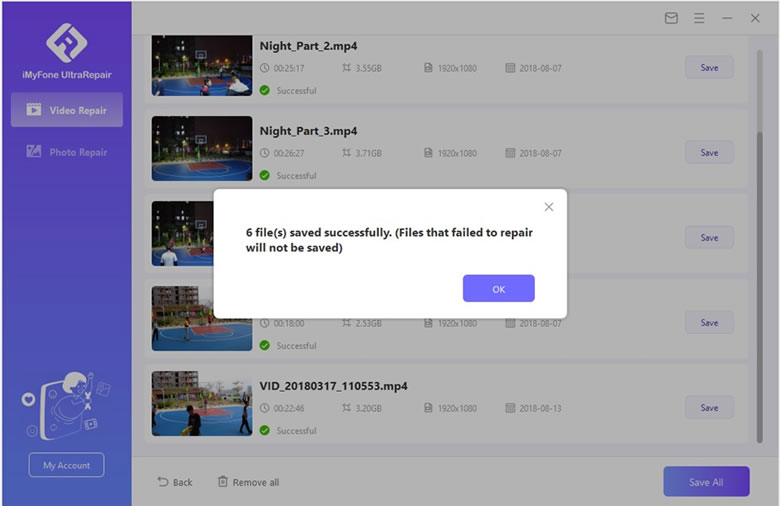 Conclusion
iMyFone UltraRepair is a great tool to repair and fix your precious images and videos that you want to get back at any cost. Although there are many in the market iMyFone is a trusted company you already know that if you are a bit geeky. If you to try it out you can download the trial version from the download button below: