Huawei P40, P40 Pro and P40 Pro+ First Look
Huawei announced its new Huawei P40 series today in the livestream event — the P40, the P40 Pro, and the P40 Pro Plus. Similar to previous flagship devices, these new phones have a significant focus on cameras and have top of the line specs. But this is first P series without GMS.
Huawei P40 Series Has Three Variants
There are three variants of the Huawei P40, all have same chipset, software, and main wide-angle 50MP RYYB "Ultra Vision" camera. The P40 Pro and P40 Pro Plus share a very similar frame, with the only external distinction being in the camera module and the build material. Whereas, the P40 is a smaller one with slightly thick bezels and a less advanced display.
You can read detailed specifications here: Huawei P40, Huawei P40 Pro, Huawei P40 pro Plus
Huawei P40 is the base version. On P40, you'll find a triple rear-camera setup consisting of a primary 50MP f/1.9 camera, a 16MP f/2.2 17mm ultra-wide-angle camera, and an 8MP f/2.4 telephoto camera with a 3x optical zoom. Huawei is once again using a RYYB sensor, which absorbs more light, results in better low-light performance. The sensor is also massive at 1/1.28 inches, which is even bigger than the 1/1.33-inch 108MP sensor of Samsung Galaxy S20 Ultra. That should help even better low-light performance. It produces 12.5MP photos by default by combining four pixels into one.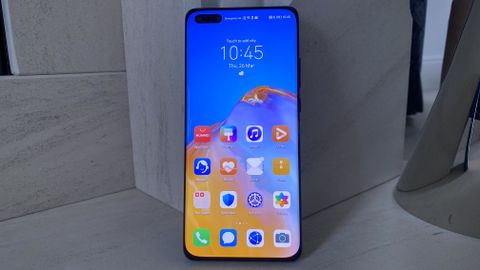 Huawei P40 has smaller 6.1 inches display.
Huawei P40 Pro has a ToF sensor and increases the resolution camera. The main camera is same 50 MP but wide-angle camera has a resolution of 40MP, and the telephoto lens is 12MP. The optical zoom is increased to 5x.
Huawei P40 Pro Plus has two separate zoom lenses also.
Huawei has also made improvements on the software. It says that its AI is clever enough to remove glass reflections and even remove unwanted passers-by if they accidentally come into photo. There's also a feature that'll suggest a better photograph to you after automatically capturing a burst of photos in the background.
Huawei has made a quad curved display on Huawei P40 Pro and P40 Pro Plus. Although, the actual display underneath doesn't stretch nearly as far. That said, the phone's bezel is just a couple of millimeters thick, and the P40 Pro is still a striking-looking device.
Huawei has equipped all phones with Kirin 990 5G chipset.
The display is 6.58 inches OLED display. It is 90Hz display for the first time from Huawei.
Other than that Huawei has included 40W wireless charging although wired was already there. it comes with 8GB of RAM, and 256GB of storage. The 4,200mAh battery on P40 Pro and Pro Plus and 3800mAh on smaller one.Huawei has also made improvements int he software.
The whole series will be available in a glossy white, black and blue and matte silver and gold finishes, and the P40 Pro Plus is also available in ceramic finish in either black or white.
No GMS
Huawei has included HMS and Huawei AppGallery instead of GMS and play store due to trade ban. This is the most important concern about this device because hardware is already fantastic.
Pricing
Huawei P40 — 8GB RAM, 128GB ROM — €799 (~$864)
Huawei P40 Pro — 8GB RAM, 256GB ROM — €999 (~$1,080)
Huawei P40 Pro Plus — 8GB RAM, 512GB ROM — €1,399 (~$1,534)​