It's official now — the newest version of Google's smartmobile operating system is called Android 8.0 Oreo, and it will soon start rolling out to Nexus and Pixel devices. This new version has plenty of changes in store, ranging from revamped looks to under-the-hood improvements, so there's tons of cool new stuff to explore. Read all the Android 8 Oreo-All New Features below.
Android O Release Schedule
The Android O ultimately became Android 8.0 Oreo, as predicted by everyone the first time they thought of a sweet treat starting with 'o'. Like last year, the final public version was preceded by a series of developer preview builds. The first developer preview arrived in mid-March, with the second developer preview released during Google I/O in mid-May, and the third in mid-June. The fourth and final preview arrived in mid-July, right on schedule. The public version of Android 8.0 was out for supported Pixel, Nexus and Android One devices starting August 21.
Android 8 Oreo-All New Features
1."Powered by Android" Boot Screen
The title says it all, the "powered by Android" logo now appears under the colorful G logo on the boot screen for Pixel devices.
2. Overlay Sticky Notification
Taking another step towards increased security, Google has added a sticky notification to alert you whenever an application is running an overlay in Android Oreo. The screen overlay permission was added in Android Nougat, so apps had to ask permission to draw over other apps. In Android 8.0, not only will the permission be required, but you'll also be alerted with a notification that doesn't go away until the overlay has.
3.Adaptive Notification Dots
If you cast your mind back to Google I/O 2017 you might remember Google demoing notification dots (which are essentially numberless notification badges with nifty launcher shortcuts) which would be coming up in Android O. In dev preview 3 we saw notification dots with a standard blue color. This time around the dots appear in various colors drawn from the app icon they relate to.
4. Adaptive Icons
With the Pixel, Google introduced the concept of rounded home screen icons. This, combined with Android's usual freeform icons and Samsung's squircle style, means that there's now some serious fragmentation with app icons. To accommodate everybody, developers would have to include circle, square, squircle, and freeform icons in each of their apps, and that's probably asking too much.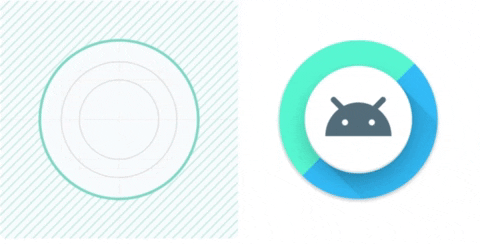 Enter Adaptive Icons. With this new feature in Android 8.0, developers can create a single, unified app icon, and the system will do the rest. When an app offers an Adaptive Icon, Android Oreo will automatically crop and align it according to the system settings. From a user standpoint, this means that once apps get updated with Adaptive Icons, all of your home screen icons will be of matching shapes.
 5. Picture-in-Picture Mode
Following in the footsteps of Android Nougat's split-screen mode, Android Oreo will now allow apps to be viewed in Picture-in-Picture mode. This will be a special type of split-screen window that should be particularly useful for watching videos while performing other tasks, though apps will need to be updated to support the new API, and none that we've tested have this feature enabled yet.
6. New emoji
The second developer preview introduces all new emoji. Google has finally ditched the blob-shaped smilies in favor of more traditional rounded ones, and most emojis now have a gradient applied to them.
7. Smart Text Selection
The text selection is now updated. With Android O, highlighting text includes further features, using Google AI to intelligently act on the words. For instance, if you highlight a phone number, you can just tap to dial. If you highlight an address, a single tap will start navigation. Best of all, highlighting is more intelligent itself, selecting phrases or full addresses, for example, instead of just single words.
8.Auto-Fill
You know how Chrome will auto-fill saved information such as addresses and credit card numbers when it detects a compatible field. Well, a similar feature is coming to Android Oreo, which should save you the hassle of repeatedly entering the same information on a touchscreen keyboard.
This new Autofill Framework will allow apps to create and manage their own lists of auto-fill data, then simply populate it into text fields when appropriate. The user will still have total control over the saved information, though apps will need to be updated before they can use the new feature. Nonetheless, this feature should make password management apps like LastPass even more useful on Android, which is a big plus for security in general.
9. Notifications Shade
When you swipe down the notifications shade you'll see the first visual changes in Android O. The strip of six toggles at the top of the notifications shade now takes up a little more space on-screen and there's a little re-ordering of the toggles in Android O since Nougat. A new condensed font for the date and time means that information takes up less space, which is fortunate because there are now more status bar icons visible.
Besides the shortcut to the settings menu and the Quick Settings carat , you've now also got Wi-Fi and cellular connection icons as well as the battery icon and remaining percentage (which is shown next to the battery icon).
10. App Badges
Android O finally adds native support for app badges. They are the little number bubble that shows up on an app icon to show you your unread notification count and are yet another custom launcher feature being absorbed into stock Android. Of course, you'll have complete control over these at the flick of a toggle in the individual app notification settings.
11. Redesigned Settings Menu
The most prominent visual change is a revamped Settings menu, which features subtle dark gray text on an all-white background. Strangely, the side navigation menu introduced in Android Nougat is gone, but all of the various menus have been reorganized to make the Settings area as simple and straightforward as possible.
12. Revamped File Manager
Android's built-in file manager is not the best on the market, but it's nice to have a file manager without having to install an additional app. Things are looking up, too, as the Files app in Android Oreo got a bit of a makeover. It still hasn't reached feature parity with apps like Solid Explorer and FX File Manager, but at the very least, it lets you view, delete, and open files.
13. Battery-Saving Background Restrictions
Android Oreo may finally fix issues with standby battery drain. Doze Mode helped quite a bit in this regard when it was introduced with Marshmallow, then improved upon with Nougat. But now, Google's tightening the reins on actions that apps can perform in the background.
Background Execution Limits being imposed in Android Oreo will ensure that apps won't run wild with background services or keep listener services open at all times. Even more helpful, apps can only request location updates "a few times each hour." The location restrictions will apply to all apps, regardless of if they were built for Android 8.0 or an older version, so it seems Google is really starting to crack down on rogue battery drainers.
14. Snooze Individual Notifications
Perhaps best Android Oreo feature is the ability to snooze individual notifications. When a message comes through, but you don't have time to deal with it, just swipe to the right, then tap the clock icon to snooze the notification. This will make the message go away for 15 minutes, then come right back when the time is up. You can also change the snooze length right after you've snoozed a notification.
15. Fingerprint Scanner Gestures
The Pixel and Pixel XL shipped with an exclusive feature that allowed users to expand their notification tray by swiping down on the phone's fingerprint scanner. Although this feature along with other gestures is present in Huawei phones since they implemented fingerprint scanner in their phones.
Third-party app developers can now use an Accessibility service to monitor the fingerprint scanner for swipes — both vertical and horizontal. This means that, by requesting an extra permission, your favorite apps will get fingerprint gesture functionality.
16. Lock Screen Shortcuts
Another great addition to the Android oreo is a new lock screen shortcuts menu, which does exactly what you'd think: It lets you add custom shortcuts that will show up in the bottom corners of your lock screen. You can pick any installed app to occupy one of these spaces, and there are several handy shortcuts to choose from, such as one that opens your selfie camera directly.
17. Rescue Party
All softwares have bugs, it's an unavoidable fact. But with Android Oreo, when a fatal bug comes through and your device starts crashing, the operating system will attempt to automatically fix the issue. This new feature is called Rescue Party, and it basically applies a series of escalating fixes when your phone repeatedly reboots, or when a persistent app continuously crashes. Here's hoping this marks the end of bootloops.
18. Hi-Fi Bluetooth Codecs
Bluetooth has always been criticized for its lower audio quality when compared to wired headphones. But as we're now living in a wireless world, so something needs to give. Thankfully, Google has added a handful of high-quality Bluetooth codecs to Android Oreo, including Sony's LDAC, which should greatly improve audio quality with compatible Bluetooth devices.
One more thing to add on this front: Sony's one of the few manufacturers that actually contribute to Android's code base, so they deserve some props. In addition to the new codec, they've donated the framework that powers Android's hidden theme engine, among other contributions.
Now that Android apps can run on Chromebooks, it's become apparent that keyboards and touchscreen-optimized apps don't play nice together. To solve this, Google has made Android 8.0 more reliable and predictable when using arrow keys or the Tab button to navigate interfaces. This feature may sound like it's strictly for Chromebooks, but if you use an Android-based TV box or pair a Bluetooth keyboard with your phone or tablet, it'll certainly a welcome change.
20. Pixel Launcher Improvements
The Pixel launcher will now let you swipe up from almost anywhere on your home screen to open the app drawer. So you'll no longer have to initiate the swipe from the dock at the bottom of the screen, and once you do open the app drawer, you'll notice another subtle change — the navigation buttons at the bottom of your screen are now black, which makes them easier to see on top of the white app drawer.
21. Wi-Fi Aware
A new feature in Android 8.0 called Wi-Fi Aware. Without needing to be on the same Wi-Fi network, devices running the new Android version will be able to discover one another, then create a private network between them that can allow the devices to share data amongst themselves.
Aside from the framework being included in Android Oreo and an API being made available to developers, there isn't much real-world use for Wi-Fi Aware just yet. From the sound of it, though, it could be used for purposes like speeding up Android Beam file transfers.
22. Battery Percentage Indicator Tweaks
Previously, you could use the SystemUI Tuner menu to add a small overlay to your battery indicator that depicted the current percentage. This option is still present in a way, but now, you can only opt to display the percentage next to the battery indicator in your status bar.
23. Battery & Connection Indicators in Quick Settings
This is just a minor tweak, but when you pull down your notification shade to access your Quick Settings tiles, you'll now see a set of connectivity and battery indicators at the top of the screen, next to the Settings gear. Tapping these icons does nothing, but it's nice that the information is there.
Conclusion
Here we have listed almost all Android 8 Oreo all new features you need to know this year. Android O is shaping up to follow very much in Nougat's footsteps, completing some of the work started in Nougat and further strengthening the granular nature of control in Android. User-facing notification and permission management are better than ever before and Android itself is taking an even more aggressive stance to apps that treat precious system resources with reckless abandon.
Other than apparently having an entire team whose job it is to constantly come up with new ways to group things in the Settings menu, there are very little superficial changes here. Ushering in the next phase of Android peripherals is clearly a focus too, with better support for Bluetooth audio and hardware keyboards. But Android O is also catching up on a lot we've been waiting for, from adaptive icons, to the Autofill APIs, picture-in-picture mode, app badges and nav bar tweaks.
IF YOU LIKED THIS POST DON'T FORGET TO SHARE THIS ON YOUR SOCIAL MEDIA ACCOUNTS AND FOLLOW US ON SOCIAL SITES TO STAY TUNED. YOU CAN ALSO SUBSCRIBE OUR NEWSLETTER OR RSS FEED. IF YOU HAVE ANY ISSUE FEEL FREE TO COMMENT BELOW.